Tax Deductible Donations
FCCB needs your help!
Donations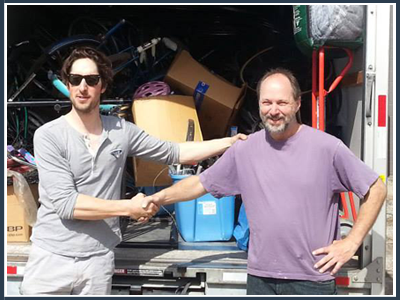 FCCB accepts monetary and material donations.
Below is information on how to make a donation.
MONETARY DONATIONS
FCCB is a non-profit organization that relies on financial contributions from donors to keep its doors open.
MAKE A GIFT
MATERIAL DONATIONS
We welcome donations of bikes and bike-related equipment. Our volunteers refurbish used bikes which we then either sell to raise funds for our organization, or donate to other non-profits such as the VOA, Youth Build, etc. If you have anything you'd like to donate, please fill out the form below, then drop your items off to our shop during open hours. If you cannot come by when the shop is open, please contact us at 502-509-3308, or leave us a comment in our contact form here so we can set up a time to meet you there when it is convenient for you.
MAKE A MATERIAL DONATION
HOURS OF OPERATION
Sunday: 1:00 PM to 4:00 PM
Wednesday: 6:30 PM to 9:30 PM
ADDRESS & DIRECTIONS
1217 Logan St. • Louisville, KY • 40204