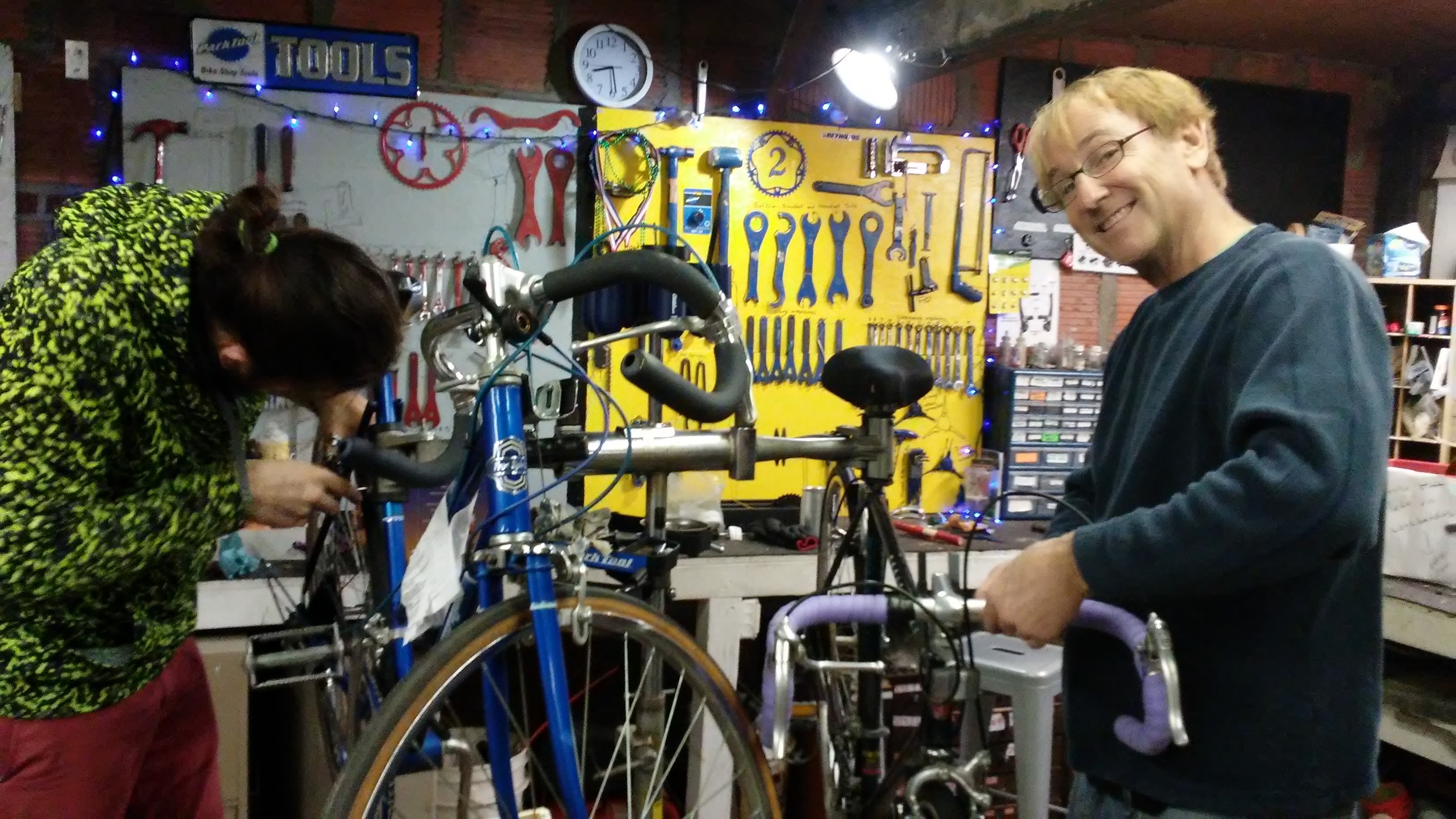 On Monday night, January 23, 2017 FCCB volunteers had a Bike Fix 'Em Up Night to double our inventory of complete bikes ready-to-ride for Spring 2017!  Twelve volunteers worked in small groups to take inventory of project bikes, make necessary repairs, and clean and polish bikes after a safety-check and test-ride. Our soundtrack for the evening was The Beatles, and then some 1970's Classic Rock.
Some highlights:
Mark Humke fixed up a nice 1980's Schwinn road bike in gloss black with matching lavender bartape and saddle.
Tom Hughes tuned and cleaned an electric blue Free Spirit roadie suitable for a rider around 5'5".  A typical tuneup includes gear and brake adjustment, wheel truing, hub adjustment, headset adjustment, and more. FCCB's experienced bike mechanics can tune-up a bike in good condition in about an hour.
Graham worked on a full-fendered pearl-white beach cruiser with a front basket.  This one is ready-to-ride and priced cheap at $60!
Samantha Rivera and Ben Goldenberg offered maintenance expertise and shop guidance to the assembled volunteers.
Mike Hernandez sorted bikes in the showroom and helped pile up the bent and broken frames that now comprise Scrap Mountain.
Bernie Leeds rebuilt the hubs in a single-speed wheelset and fitted them to the gloss-black Hounder frame he donated to FCCB last fall. Thanks, Bernie!
Nathan S. and Alan re-cabled a nice modern Schwinn MTB suitable for urban riding as well as light offroad use. If you are tired of fixing pinch flats on your "skinny tire" bike, then consider a fat smooth tire that keeps pressure for weeks.
Nick Lough cleaned and polished all the tuned-up bikes and prepped them for the showroom.  Nick also helped with the reorganization of the showroom.
Jane and Nate inspected a lot of old clunker frames from showroom and piled up the broken ones on Scrap Mountain.
General commentary from Nate Pinney, shop mechanic, on what makes a donated bike eligible for rebuilding, or destined for Scrap Mountain:
Bikes that have bends, large dents, or cracks in the frame or fork are generally not suitable for rebuilding.  Sometimes bent forks can be replaced (forks get bent in a crash), but often frames involved in crashes are damaged in other, more subtle ways. Crash damage typically manifests itself as a bent-in front fork, and often a kinked downtube, just behind the head tube.  FCCB does not resell donated frames or bikes if we detect any evidence of crash damage (these frames are stripped of useful parts then scrapped or turned into artistic re-use projects).
Suspension frames and forks ("shocks") with worn bushings are a pain to rebuild, because replacement bushings and other parts are rare and difficult to install. The modern variety of sub-$200 full-suspension bikes from big-box stores (lookin' at you, Walmart and Target) are often not economical to repair when suspension components begin to fail. A typical fate for a damaged or incomplete full-suspension frame is the ritual removal of useful parts (brake calipers, seatpost, crank, etc.) and ceremonial placement of the bare frame atop Scrap Mountain.
Frames with severely bent or missing rear derailleur hangers can be troublesome for community bike shops. Many modern bikes are made with replaceable derailleur hangers, which are a good idea in theory. Replaceable derailleur hangers are made of soft aluminum, and are designed to bend or break easily in a crash. This failure mode allows the hanger to absorb the energy of a crash impact and prevents further damage to the derailleur and frame. However, different manufacturers use slightly different shapes for their derailleur hangers, and they also change designs over time. The result is a bewildering array of different derailleur hangers that are not cross-compatible. It is possible to buy replacements for a given bike model, but they can be expensive, especially for older or rare bikes. Keeping a running inventory of derailleur hangers suitable for whatever random bikes come into our door is not a feasible task for our humble community bike shop. If you bring a bike or frame to our shop as a donation, please do not remove the derailleur hanger!  It is part of the bike frame, not part of the derailleur!
That said, FCCB is very thankful to our many donors and volunteers who have brought us a lot of really nice bikes. Most of the bikes that are donated to FCCB will be rebuilt and sold or re-donated to those in need of a working bike. Our goal is to get donated bikes back on the road in safe riding condition, and turn aspiring cyclists into active cyclists without the entry barrier of having to buy an expensive new bike.
— Nate Pinney, VP at FCCB and bike mechanic extraordinaire